Carla and I met in one of Jack Canfield's training rooms while I was on Jack's assisting team. When a mutual friend referred her to me for writing coaching, Carla and I spent a couple of years working on the first few iterations of her manuscript––and through life's peaks and valleys. She's authentically transparent and possesses a sense of humor that will brighten your day. Her journey is an inspiration.
She is the author of Reignite your Spark: Simple Steps to Extinguish Stress and go from Burned Out to Fired Up, and a 3x International best-selling co-author, including her featured story in Chicken Soup for the Soul: The Spirit of Canada.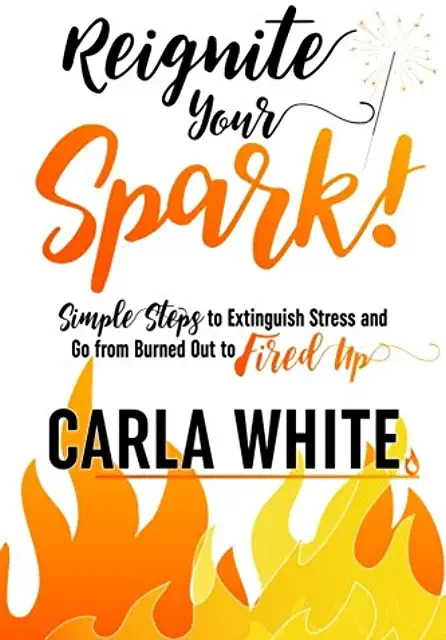 With over three decades of experience as a consultant, facilitator and yes, one of the first female Emergency Services Firefighters, Carla White earned her badassery badge by rising from the ashes of life's literal and figurative fires. Today, she's on a mission to educate, empower and inspire others to STOP letting life's inevitable fires burn them to the ground and START reigniting their own SPARK. From burnout and depression during her nursing career, to specializing in dealing with crisis and chaos in her work with clients and surviving the 2016 Fort McMurray wildfire––Canada's largest and most expensive natural disaster in history––Carla knows a thing or ten about bouncing forward from life's rock bottom moments. She applies her real-world expertise to consult with government agencies, municipalities, first responders and health care on their unique resiliency issues.
Additionally, Carla is a sought-after consultant and has worked with some of the world's top thought leaders as a Human Potential mentor and facilitator. In both capacities, Carla delivers leading-edge content and mastery programs in Resiliency, Reinvention, Stress & Crisis Management.
As a dynamic presenter, Carla brings a relatable, results-driven wit and charm to her exceptional storytelling. Through her signature set of Resiliency Tools, Carla successfully shifts individuals and audiences around the world from stuck and stressed to refueled and reignited! Part powerful mindset practices, part life and business skill-building, Carla's uncanny ability to transform audiences, with her unique fusion of heart, humour, and high impact content, is unparalleled.
Her wildly popular inspirational comedy show, Shut the F*%k Up: Confessions of an Angry Housewife, became the headliner for an International Tour with a mission to inspire One Million Professionals and Entrepreneurs to Reignite their SPARK through living, learning, and laughing.