Chad Handsted and I met through our mutual friend, Angie Callen, in the fall of 2020. 
Initially, Chad was a client, and I was helping him through the first draft of his manuscript for Stanky and Cece: Break the Rules. 
It wasn't long into our collaboration that it was evident that we were destined to be partners in the Stanky & Cece Adventures. Chad is an engineer by day, a musician by night, and an author with a strong desire to make a difference in children's lives. 
Our work together really doesn't feel like work. It's fun! Seriously, how could I not be having fun when Stanky, the Jeep, and Cece, the dog, teach children the importance of responsibility, acting with integrity, and knowing their values? Think of a series much like Berenstain Bears. 
And oh, by the way, Stanky and Cece are real! Stanky is Chad's Jeep, and Cece is his "foster fail" dog.
Our first book, Stanky & Cece: Break the Rules, was released in late 2021. And the Spanish version was released in the Spring of 2022.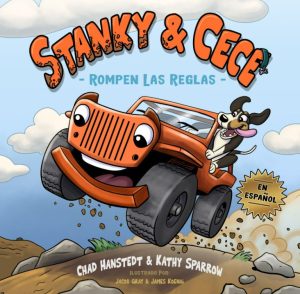 Our second book is in production. Stanky & Cece: Out of Control will be released in early 2023. And we have a slew of ideas in the hopper for Stanky & Cece to delight our readers. 
We are so blessed to have incredible illustrators James Koenig of Freelance Fridge and Jacob Gray on our team and our translator, Claudia Lopez. 
For more information on Stanky & Cece, visit www.stankyandcece.com