Like most of my clients, Laura came to me via a mutual friend, Adele Fedorak.
When Laura Ballerini and I first started working together to write her book, The Green Velvet Chair: Heartfelt Stories of Art and Design in Everyday Life, my awareness of art and design all around me expanded.
Laura's stories inspired me, moved me to tears, and were a catalyst for me to remember the precious moments in my life. And this happened with each draft read.
I began seeing the designs created by plants draped over a fence. I thought of the way my grandmother artfully canned her vegetables. And I remembered all those Halloween costumes I crafted for my children.
Through her stories of visiting New York City pre and post-9/11, my awareness of art as a marker in history grew. Her story of lying on the floor next to her cat to see his perspective of the world reminded me to check my own perspectives and see what lens I'm looking out from at the world.
I have no doubt that this book will touch many hearts and minds in many ways.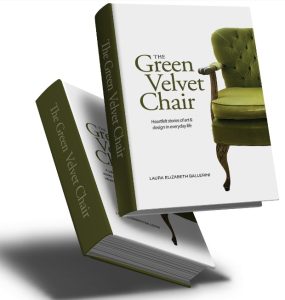 Like Chicken Soup for the Soul, with a focus on creativity, this is a compilation of essays about design crossing into many areas that touch each and every one of us. Music, food, writing, costumes, brands, sculptures, colour, and so much more are woven throughout each chapter. Ballerini creates a tapestry of words using the creative threads that connect us all.
Laura Ballerini is a seasoned graphic designer with a degree in Visual Communications and over forty years of working in the industry. Ballerini has experienced the many facets of art, design, and communications over the decades.
Having worked for a big-city newspaper and a leading Advertising Agency and currently running her own design boutique, BluBrown Communications Inc., Laura has honed her skills to merge writing and visual design into one. BluBrown is named after her two daughters, one with blue and one with brown eyes; the concept was to always look at design through a child's fresh eyes and ask, "why?"
Laura lives in Calgary, Alberta, with her husband, two daughters, one son-in-law, a granddaughter, and a pretentious cat named Gooey. Her website: www.Badass-Ballerini.com