Wren's father and I were introduced by a mutual friend. The minute I read her poetry, I was so moved––many times to tears. For a sixteen-year-old, she possesses such wisdom.
It's an honor to support her in her becoming a poet and in the publication of her first collection of poetry, Still Growing.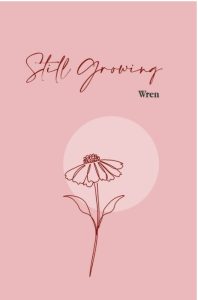 Here's a little bit about Wren.
Wren is just an ordinary teenage girl from a little town in the corner of nowhere. She is inspired by the grief and the pain of living as well as the beauty of the journey. She hopes that others may read her words and feel a little less alone in the process that is growing up. She believes that tomorrow is another chance to try again and that no matter how hard it gets, you must keep going because, eventually, the sun will rise. Still Growing is her first collection of poetry. Follow her on Instagram @poetwren or visit her website www.poetwren.com